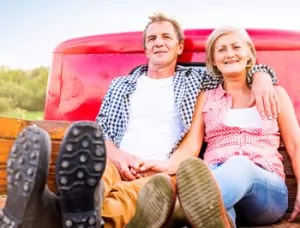 Are most of your teeth weak, damaged, or missing entirely? Would you like to regain a fully functional smile?
Dentures have served patients with missing teeth for years, and they have only gotten better over time. Dentures restore a patient's full and complete smile. With dentures, patients will recover their ability to chew, speak, and smile properly.
Dr. Merica and his team have many years of experience placing dentures. They utilize the latest denture advancements so that patients can enjoy ultimate denture security, comfort, and appeal. At Merica Family Dental, we provide both traditional dentures and implant supported dentures.
Traditional Dentures
Traditional dentures have saved millions of smiles all over the world. Traditional dentures have come a long way in recent years — they look and feel more natural than ever. Traditional dentures are often the most affordable smile replacement option, and are the best choice for patients with severe jawbone deterioration.
When you come into our office for traditional dentures, Dr. Merica will fit you for a custom-made set. The lab specialists will use the impression of your mouth to create dentures that are comfortable and functional for you. These dentures will form a seal with your gums to stay in place.
Implant Supported Dentures
Implant supported dentures are attached to dental implants, which are small titanium rods placed into the jawbone. Dental implants can be used for single tooth restorations or for a full set of dentures!
Implants offer high security smile replacement because your teeth will never shift or slide when they are anchored to artificial tooth roots. Implant supported dentures are comfortable to wear and they always look incredible.
If you are interested in restoring your smile with beautiful traditional or implant supported dentures, contact us today. We would be honored to assist you at Merica Family Dental!